Stan's Stuff (January 2022)
STAN'S STUFF 2020
MY POLICY: I don't spend time or money on fancy packaging, often I wrap in newspaper. Instead my energy goes into producing quality products. I won't produce a competition kit that I can't win with! Please keep in mind that I am a hobbyist, not a business. Often I don't have kits in stock, I must assemble them to order. Sometimes I am fast, I always try to be, but life can get in the way and slow me down. Occasionally you may need to be patient. If you are in a special hurry and need me to work overtime, tell me and toss in an extra 20% for the order, not for the shipping.
SEND ORDERS TO: PLEASE BE CLEAR WHEN ORDERING
Email Stan (Buddenbohms@gmail.com) before ordering due to limited availability due to supply shortages.
Stan Buddenbohm
PO Box 1677
Boulevard Ca 91905
You can't order by email but you can ask questions buddenbohms@gmail.com
I normally see email a few times a week because I must travel for a connection, so please don't lose patience.
SHIPPING USA: U.S. Shipping is by priority USPS mail $10 for up to 2 CAT kits or $14 for more than that. Small parts or fuselages can ride with a kit for no extra shipping charge. For Cole Power kits the Post office now adds a $4 surcharge. For larger TLGs they add a $16 surcharge. So you will need to add that. However, it is possible to get rid of the surcharge if you want me to cut your wing blank in half. Just make that clear when ordering
SHIPPING outside the USA: The price increases have made this impractical
PAYMENT: USA - Cash is best, postal money order is good, checks are okay.
EXTRA TIMER SPRINGS: All kits and fuselages use the same or similar timer spring, they are included. Extra springs and springs with dt line attached are available. See price sheets
CARBON TUBES FOR CATAPULT GLIDERS
19" x .156 tapering in wall thickness Approximately 3.4g. Very stiff
CARBON TUBES FOR E-36: NO LONGER SOLD
KITS CONTAIN: Tapered wing and tail balsa, wash-in wedge, nose weight, RR fuselage where noted, and if needed: plywood, basswood, built in timer, and wire parts.
GENERIC CATAPULT INSTRUCTIONS: One copy free upon request, not for science olympiad.
PLANS: Plans are free if emailed, if you need hard copies then see the price sheets. Same for Generic TLG instructions.
COMPLETED MODELS: Generally add $100 to CAT kit price, $200 to TLG kit price. Shipping can cost a lot, like more than $60. Email me
---
If you would like to view the original PDF documents prepared by Stan, they can be downloaded below.
Front Page | Pricing Sheets
---
Many kits are no longer available but the plans for these gliders have been included for reference.
BLURR CAT DLG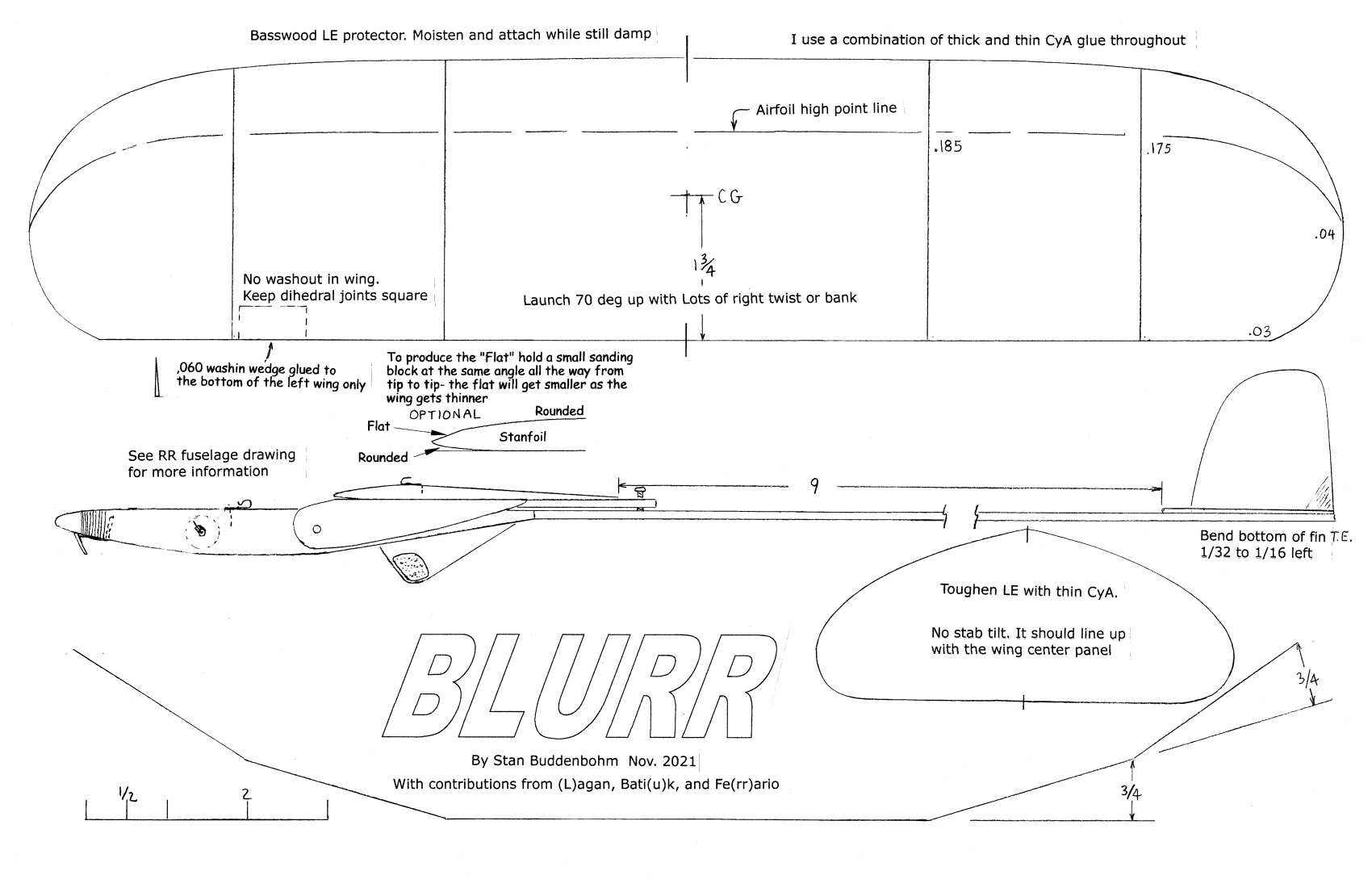 NEW VEE-17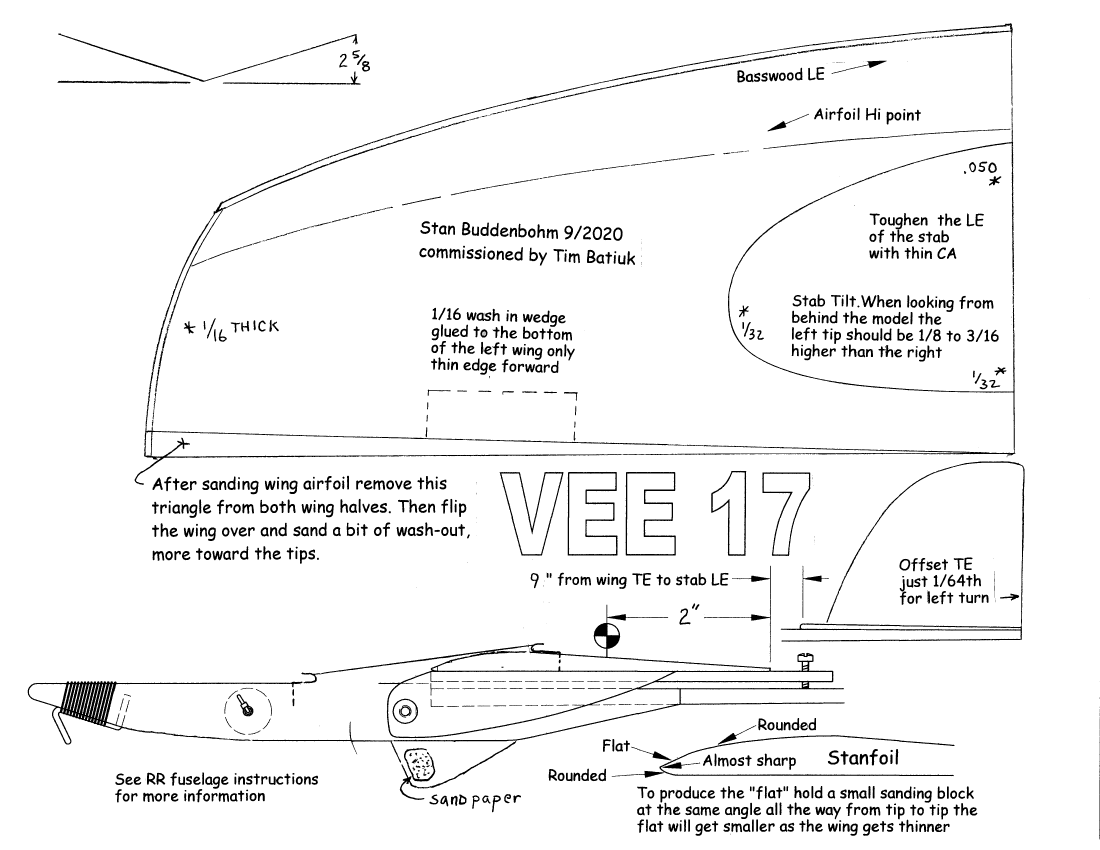 NEW CAT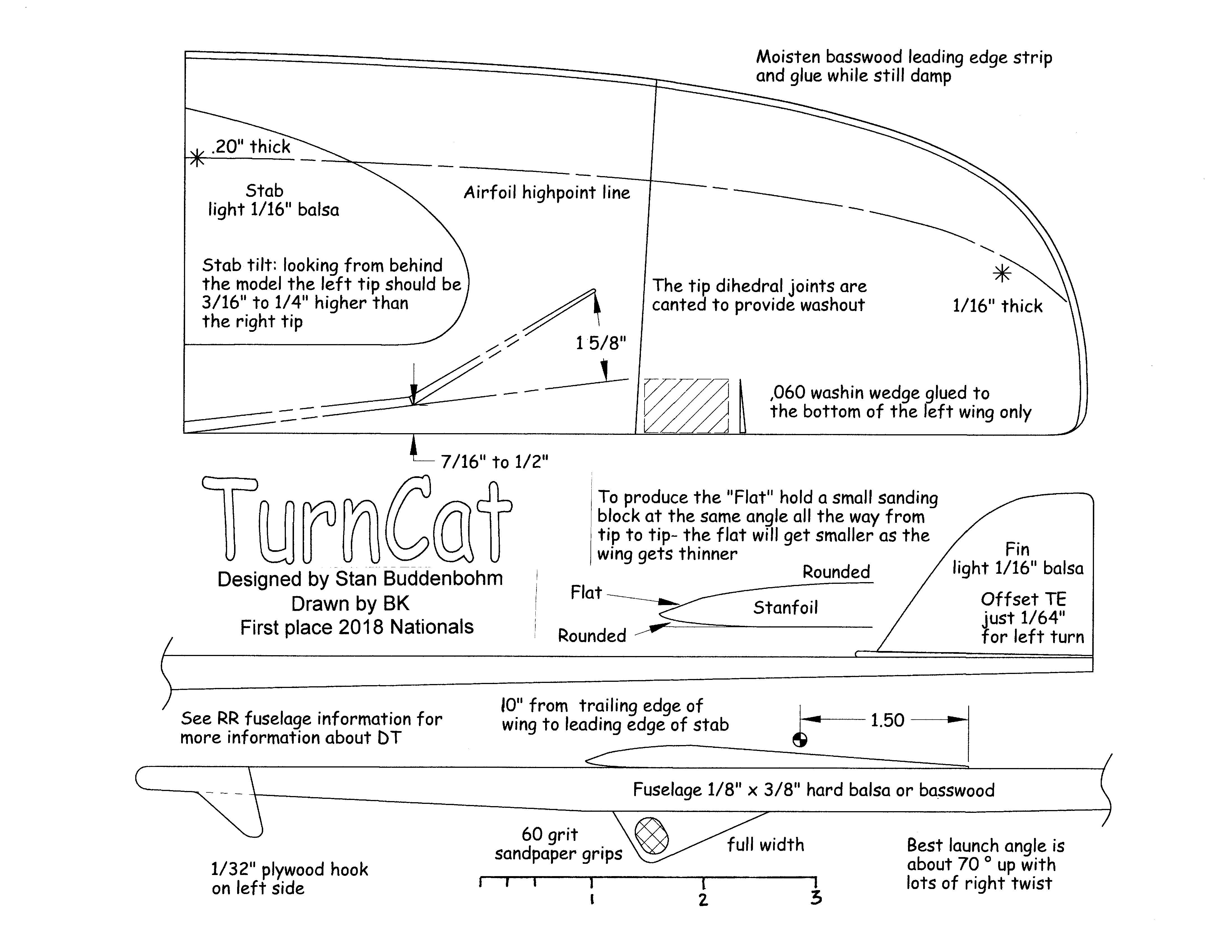 TURNCAT is a 16" span design that has won the 2018 Nationals and the 2019 Southwest Regionals at Eloy, AZ. Tremendous launch height with a beautiful transition to glide. Easy to shape wing. Can be ordered with a simple wooden fuselage and no DT, or with the RR pop up wing that has my viscous timer built in.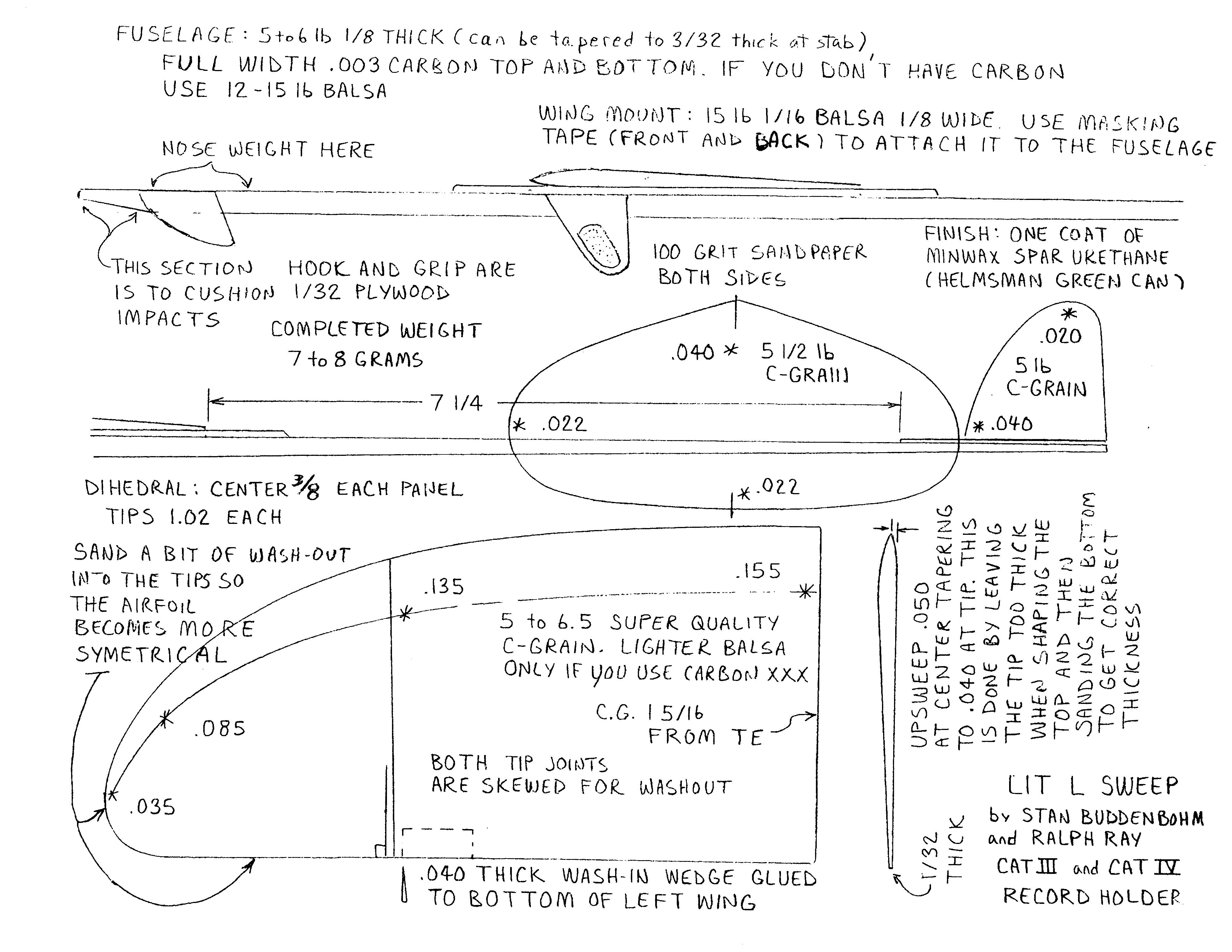 LIT'L SWEEP Cat 3 and 4 indoor glider. The current record holder for both catagories. There are a few slightly different versions that can be made from the kit. Get a couple and come to the 2019 Indoor Nationals!
RDT TIP LAUNCH GLIDER FUSELAGE
For the last 2 years I have been taping the RDT components onto the outside of the fuselage nose. The servo gets a drop of #2 CyA glue to help. This system has worked well and greatly reduces the cost. TLG kits can be ordered with RDT capable fuselage, servo included, instead of the viscous timer fuselage, at no extra cost. Photos available, email request.
NEW TIP LAUNCH GLIDER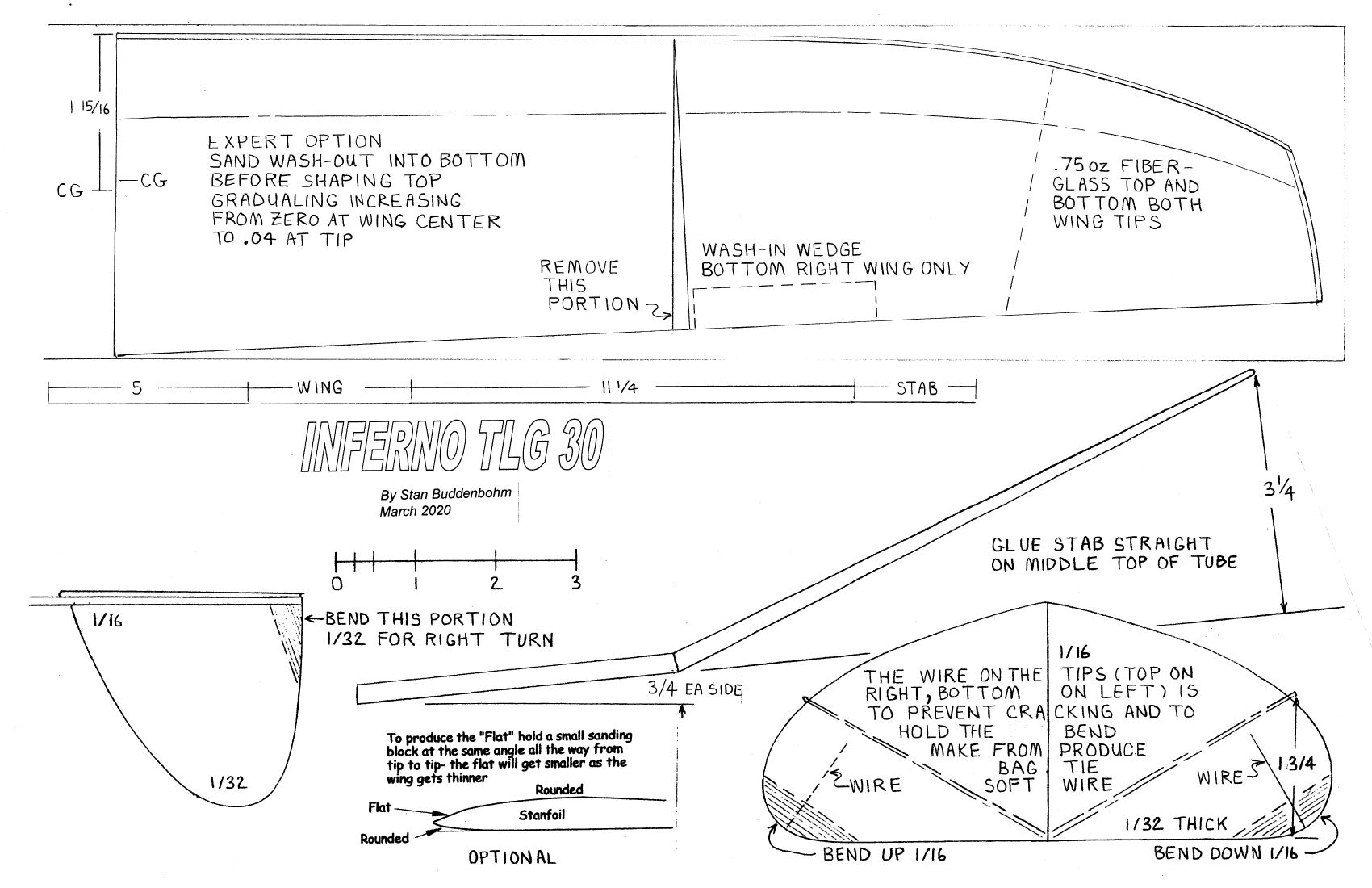 Inferno TLG 30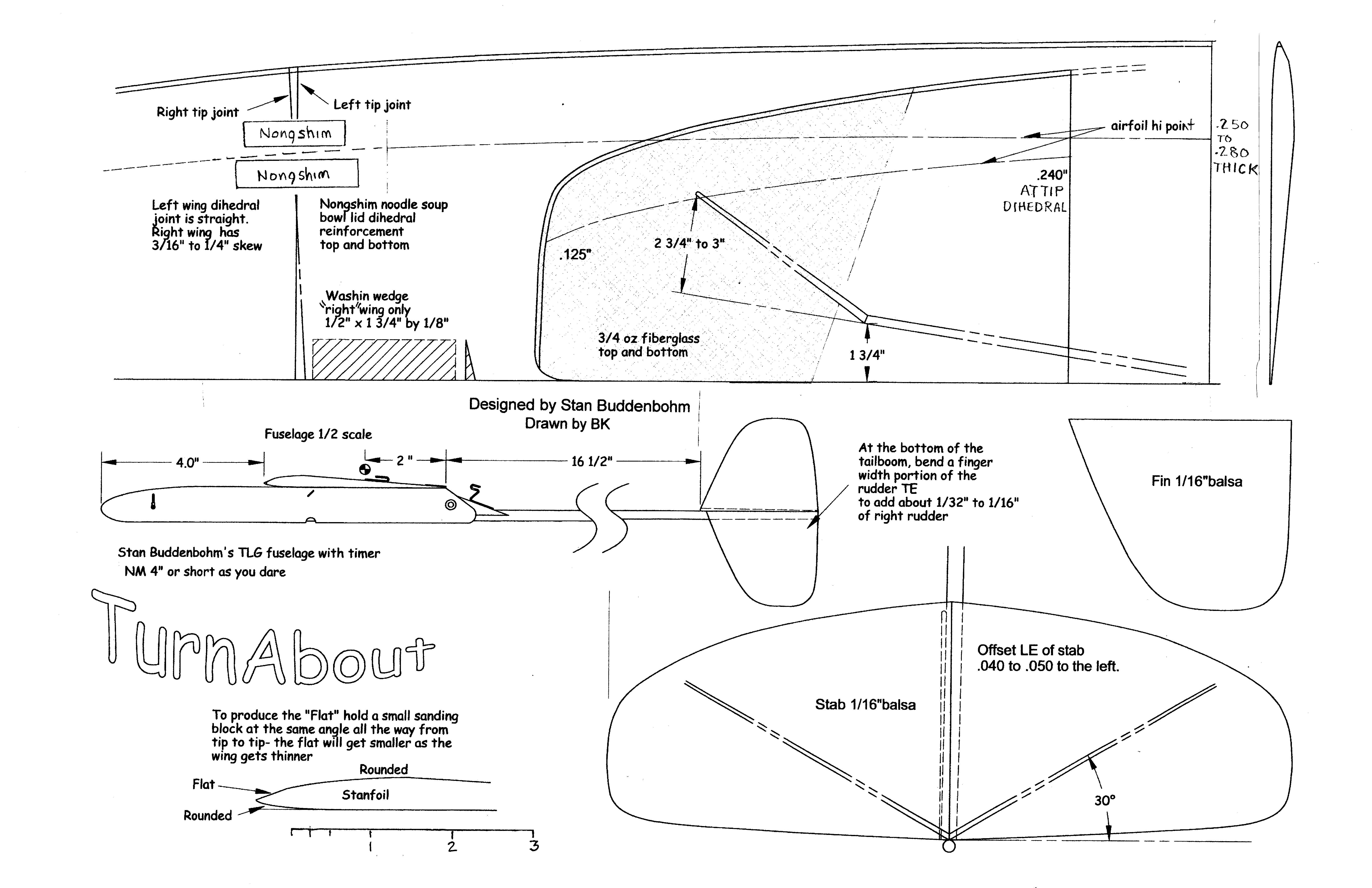 TURNABOUT is a 36" span (before dihedral) TLG. The design features a change in the dihedral scheme which provides a very forgiving transition from launch to glide. TurnAbout has already won some contests as well as third at the 2018 Nationals. Kit includes the pop up tail boom fuselage with viscous timer built in. My current favorite.
CONTINUEING CATS PATHFINDER 16" span 5 panel wing with a 3" chord. Simple outlines , easy construction. The straight airfoil high point line makes for easier shaping. Many Wins including the 2009 Nationals. Great launch height. Includes RR fuselage with built in viscous timer. STRAY CAT X 18" span, 3.5" chord. This model has been in development for many years and is a contest favorite. Many wins including the 2012 FF Championships with 8 maxes and First and Third at the 2013 Nationals. Kit includes the RR fuselage with built in viscous timer.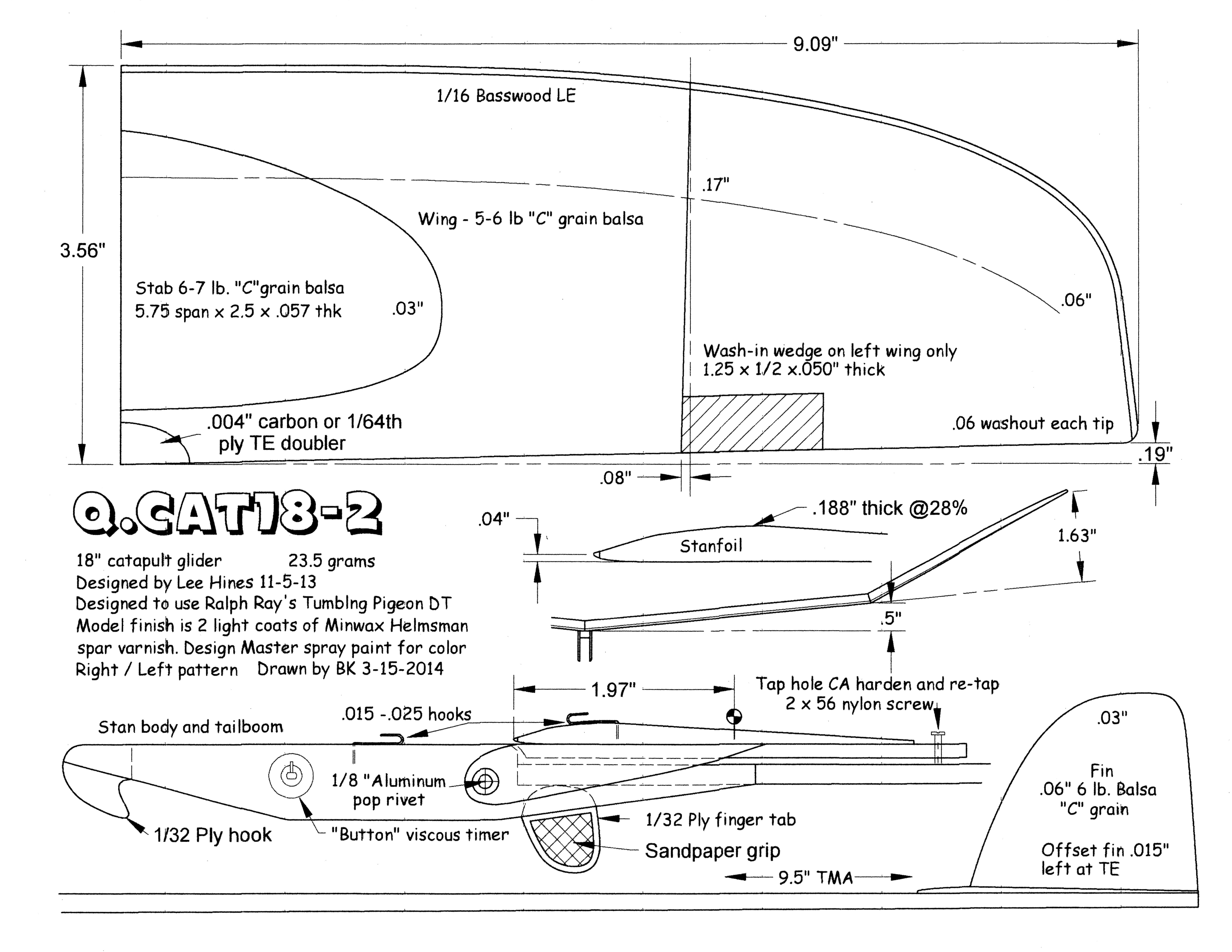 Q.CAT18-2 designed by Lee Hines. 18" span 3.5" chord. First place at the Isaacson World Championship Catapult event. I consider this Lee's best cat design to date. The kit includes the RR fuselage with my built in viscous timer. Lee modifies this fuselage to look like the one in the plan. CLEVELAND'S DART is a 12" span Old Time legal cat that is quick to build. Launches are super high with good transition to glide. Many time contest winner. No DT version available. SCOUT has a 15" span, 3" chord. Pre-shaped triangular airfoil, outlines, and dihedral joints. Numerous contest wins. Perfect for the novice or time challenged. No DT version available. CLEVELAND'S DART is a 12" span Old Time legal cat that is quick to build. Launches are super high with good transition to glide. Many time contest winner. No DT version available.
CONTINUING TLGS DYNOMITE is a 28" span, 4" chord with many wins and a second at the 2008 Nationals. Many fliers have begun their career learning to throw with this design which has been fine tuned over many years. Forgiving launch but still able to compete with the big boys. Highly recommended as a first TLG or if you just want something a little easier to fit in the box. Kit includes a pop up tail boom fuselage with my viscous timer built in. SPIN F1N 36" span, 4.5" chord WINNER of the 2012, 2013, and 2014 Nationals. Kit includes pop up tail boom fuselage with my built in viscous timer. TURNUP designed by Tim Batiuk 36" span, 4.5 inch chord. Many wins and holder of the current National record with 23 MAXES. Need I say more? Kit includes pop up tail boom fuselage with my built in viscous timer.
---
Pricing Sheets